I cast on the Multnomah shawl last night at 9:02pm. :) The garter stitch was perfect to knit while watching the opening ceremonies. They were wonderful! I think it was especially moving for me having been in Vancouver this summer. I fell in love with British Columbia while I was there. Given the chance, I'd move there in a heartbeat. Last night I got through row 33 on the shawl and today I made it through row 51. Here are the in progress shots: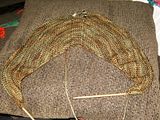 The next one has the colors more true to life.




This morning, I cast on the sleeve for the Baby Yours. The yarn is giving me gauge perfectly! It's from the Laura and Kelly at The Unique Sheep (www.theuniquesheep.com) and it's Footprints.




I decided to get the sleeves out of the way first since I tend to stall out on them. This way, they'll already be done. Tomorrow will have to be for grading and cleaning. Maybe I'll find some time to knit in the evening. We'll see!